Sybill was an internal solution for Pyango for timetracking and seamless invoicing. Since then, we've expanded it as our needs grew. Now it's a fully functional MVP ready for further development.
Developing Sybill had been based on the everpresent issue faced by agencies: Time tracking tools are abundant but never really hits the spot. Sybill allows agencies to create segments and tasks for projects tailored exactly to their workflow and project management systems while providing them with full control over invoicing and how they spend their time at work.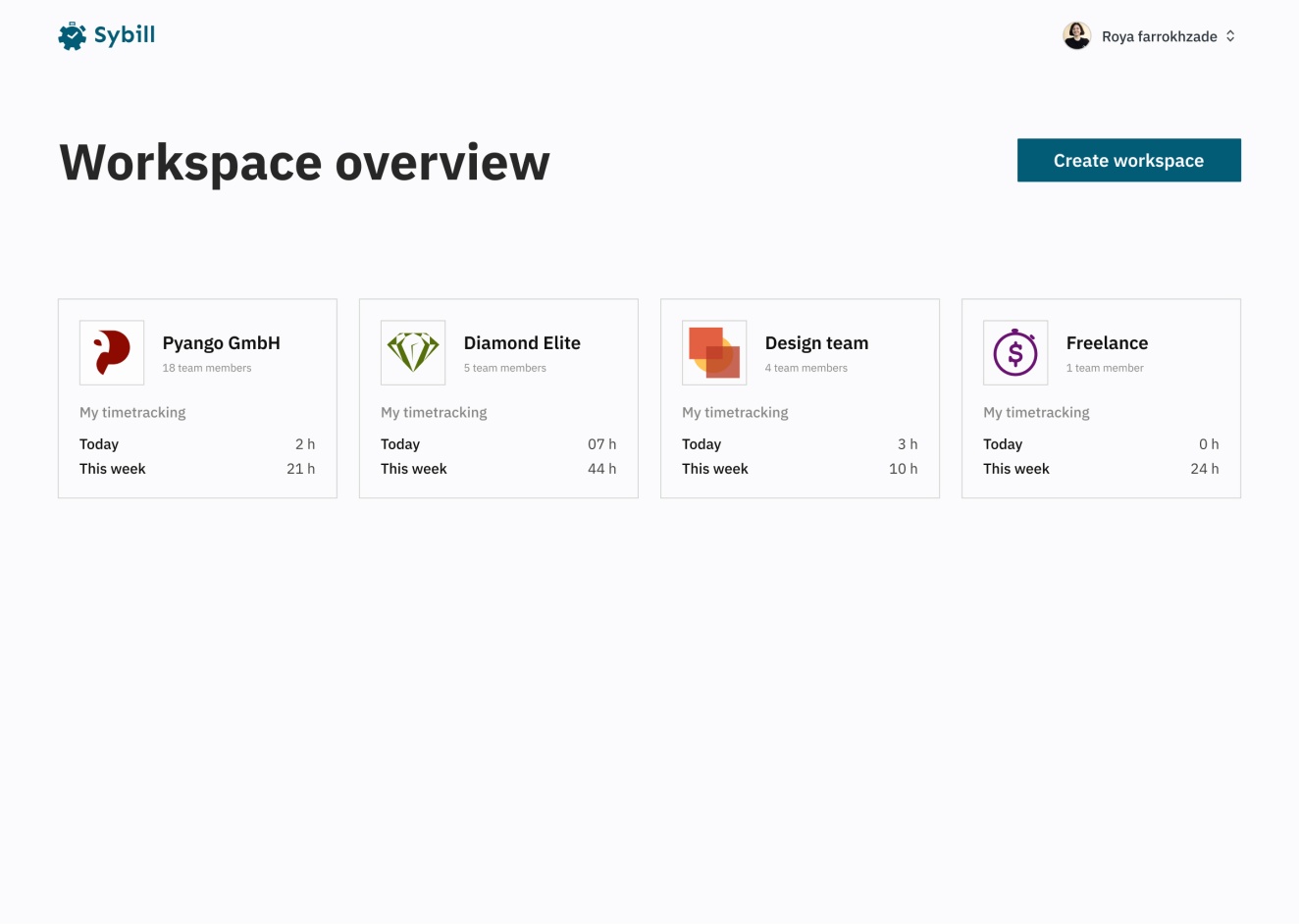 Sybill - Workspaces
Sybill first introduced internally
February 2019
Sybill introduced as a SaaS
March 2023
Redesign based on external testing feedback
Summer 2023
Outcome
Sybill has been Pyango's internal invoicing and time tracking solution since 2019, and now it is available for public use as a SaaS. Sybill.io will continue to improve and grow as users provide feedback.
Bringing an already existent internal MVP to market.
Developing Sybill has provided us with the opportunity to build up a more efficient and effective project management and project pipeline system.
Bring value to teams and freelancers alike in their daily workflows
Be the one and only tool you need for managing tasks, time tracking and invoices as a team or as a freelancer.
Cut the time users spend creating invoices for their clients by more than half so that they can focus on the work that really matters instead of administration.
Be the most cost effective timetracking and invoicing tool in the European market.
Sybill will grow to become one of the leading names in time tracking and invoicing field. It will serve to young professionals and seasoned teams alike- bringing a fresh & easy perspective to managing tasks at work.
For agencies, for businesses and for individuals.
Agencies like ourselves benefit and will continue to benefit from Sybill by having all team members subscribed for an extremely competitive price with no limitations.

Vuejs

Nuxt.JS

Vuex

GraphQL

Figma

Buefy

Django

Graphene

Docker

Hetzner

Celery

Redis

Apollo

Mjml

PostgreSQL

Traefik

Sass

Tailwind

Gitlab CI/CD
Grab your free 15 minute consultation
Grab your free 15 minute consultation
Join me for a free 15-minute consultation. During this meeting, we'll discuss your business needs and explore how our web agency can help you with software and design solutions. Whether you're looking to revamp your website, build a new application, or improve your digital presence, we're here to help. Reserve your spot now and let's see how we can work together to achieve your business goals.